Share career good practices - role models for women
Main aim of the action
To inspire female researchers to pursue research careers.
Expected impact/outcome
Confident female researchers, feeling appreciated and supported.
Implementation
Once a month one of the role models for women are presented on social media of NIC. One public event is dedicated to women in science per year. It is organized by PR department and communicated trough all standard channels plus some additional ones regarding the content (mailing lists – all national research organizations, relevant politicians, PR department is collaborating with the department of this year subject (if the main topic is European project PR is collaborating with project office if the topics is about materials for example PR is collaborating with Department of Materials Chemistry. This is how it is planned to run.
Every year the event will be organized in March which is considered as women's month (at least in our country) – Women's day, Mother's day. There will be a main lecture or presentation of career path from one established female researcher. The second part will consists from activity that can help young (we will invite especially female but also male) researchers in growing their careers (some kind of empowerment). The third part of the event will be for unformal networking and creating new collaborations.
Resources required
Place (we have our own lecture hall), possible payment for the invited guests, small catering for attendees.
Challenges/resistance
Resources must be provided by the organization.
Not many researchers attend additional events beside their work program.
Coping strategies
We persuaded leaders that this kind of events have positive effects for working motivations and that they are also important for creating the connections with researchers from other organizations and to further on support and encourage them in their work with founds or other kinds of recognition. We are being very careful with organization of the event. The guests that we invite must do state of the art research which is recognized by the world. Also the promotion among researchers is quite strong.
Key area
Recruitment, career progression and retention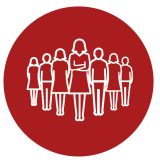 Type of action
Awareness raising/Communication
Organization
Action level of implementation