Information desk availability for work-personal life integration issues
Main aim of the action
To support employees on balancing work-personal life integration issues.
Expected impact/outcome
Employees feeling supported in work personal life integration and satisfied in the workplace.
Implementation
Info point on intranet where information for work and personal life integration is provided. Literature on this topic will also be added and then updated, while signposting is available for further information and guidance. The information desk was prepared by Human resources department (the main actor), Legal department, Project office and PR department with the help of researchers from the Plotina project group. The topics were suggested by the HR department analyzing everyday needs of the researchers addressed to HR, on the basis of survey done by the start of the project and on the basis of everyday life in our organization (main challenges, main gaps, researchers experiences…). The information desk has just been published; we will be following visitors with the tools for that. There was a notification for all employees that Plotina project group we created this to make it easier for them to cope with life situation which also affect their work life.The desk is designed according to life events, for example:
I am having a child (click)… First there is some general information which is the same for both parents. Than you can proceed to the section where it is described some specifics that are different for male and female (for example only females are pregnant and they have doctor appointments…).
It is similarly structured for other life events (wedding, death in the family, moving…).
Challenges/resistance
It was quite a great amount of work dedicated to this, but we are sure it will be very useful.
In case of any extra mitigating circumstances that could be provided the national laws are quite strict and we are being limited (for example provision of child services).
Key area
Work and personal life integration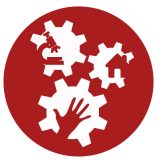 Type of action
Availability of supports/resources
Organization
Action level of implementation
Researchers/professors and technical and administrative staff