Recruitment processes aware of gender-issues, discrimination and stereotypes
Main aim of the action
Ensuring that every person involved in the recruitment process is aware of gender-issues, discrimination and stereotypes
Implementation
One of the first steps was to identify the people involved in the recruitment process. We talked to the Department Coordinators and collected the documents that define the recruitment and promotion processes from the Faculty of Engineering. In total, only at this faculty, at least 36 people are involved in the recruitment process, including PDI and PAS. Candidates are selected and interviewed by the Department Coordinator and the knowledge area coordinator, and in some cases the coordinator of the research area is also involved in the process. As a result, we discovered that 7 out of 26 interview committees were balanced, 18 were male only and 1 was female only committees. After identifying the people involved in the recruitment and promotion processes we will organize a training session to avoid gender biases in these processes. We are using resources from other projects like FESTA and from other faculties in order to deliver the training session ourselves (PLOTINA team from MU). The current recruitment and promotion processes will be also discussed in this training session. The training will be delivered during the meetings that the knowledge areas coordinators have every two weeks.
Challenges/resistance
Lack of knowledge and good practices about the unconscious bias during the recruitment processes.
Key area
Recruitment, career progression and retention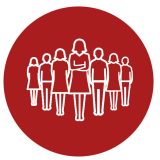 Type of action
Organization
Action level of implementation
Department Coordinators and Knowledge Areas Coordinators