PLOTINA'S STAKEHOLDERs KIT
Plotina's stakeholders are Research Performing Organizations (RPOs), Research Funding Organizations (RFOs), Policy makers, National and European Organizations that share our deep commitment to Gender Balance in Research, Innovation and Training.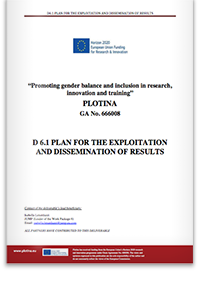 D 6.1 PLAN FOR THE EXPLOITATION AND DISSEMINATION OF RESULTS
This document illustrates the Plan for the Exploitation and Dissemination of Results and sets the stage for PLOTINA's communication and dissemination activities.
It provides the general communication strategy for PLOTINA, as well as a draft plan for the actions that will be taken all along the duration of the project.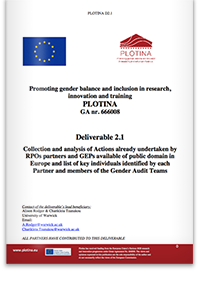 Plotina D2.1 Collection and analysis of actions
Collection and analysis of Actions already undertaken by RPOs partners and GEPs available of public domain in Europe and list of key individuals identified by each Partner and members of the Gender Audit Teams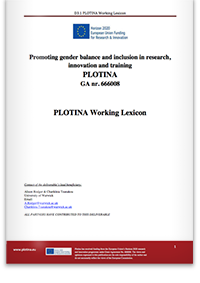 PLOTINA Lexicon
One of the first actions of the project was to agree definitions on Gender Equality, Work-Life Balance and Culture to ensure that all partners have a similar 'working' language with a common understanding of the concepts within the PLOTINA project.
The methodology and the agreed definitions of key concepts can all be found in the deliverable: D3.1_PLOTINA_Lexicon.pdf, that can be downloaded by clicking on the button below.